THE MESSAGE FROM THE PRESIDENT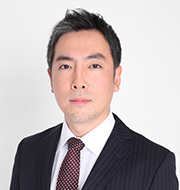 After the post-war duration, Japan has reached the leader position in the world economic. In spite of the shortage in natural resources, Japan fought successfully in the competition with foreign countries by just one weapon- the only resource called the talented people.
In the field of manufacturing, Japan got the power of world-class. With valuable national characters such as diligent, persistent, teamwork spirit, everyday effort, and the characteristics of the production management areas such as JIT · TQM, there is no doubt on prompting up of manufacturing business in general.
But looking back, what about the productivity of the non-manufacturing sector?
In the non-manufacturing sector, it relies on sense of value, such as working experience, courage, and perception, but it is not good with respect to production efficiency. Japanese labor productivity was at the 19th out of OECD participation 30 countries, at 7 in G7 group nations, this is a clear result from the fact called the last place after 1994.
Human resources is the only resource in Japan. For future development, improvement in recruitment and human resources management is perhaps the thing essentially important.
With the thinking above, the Company was founded as a "company to pursue a productivity improvement of recruitment business" in January 2004. For adoption business, advertising of job ads, how to streamline the sequential flow of adoption from applicant correspondence is an important issue. The idea that we have introduced is "information technology" and "process management" above will make this progress become speedy, simple and effective.
Since the establishment, our company has achieved 2 trillion yen for sales turn-over. With our product, retail distribution companies from manufacturers recruit more than a million people per year for temporary staffing. Our products have been contributing to the efficiency of a company's recruitment process.
The prolonged recession due to the issue of government on controlling exceed the aging population and GDP, the future of the Japanese economy seems to be opaque with pessimistic. However, we would like to be a company that can contribute to a wide range of society with the belief "every our generation makes the future of Japan ".
President of Zeku,.Ltd Takashi Hongo