HERE ARE AMAZING BENEFITS FROM RPM!
Save enormous time and effort during recruiting
Achieve speedy candidates' correspondence.
Wasteful advertising costs can now be reduced.
MANY RECRUITING AGENCIES ARE USING THIS PRODUCT
RECRUITMENT SYSTEM HELPS TO MAXIMIZE THE ADOPTION EFFECT.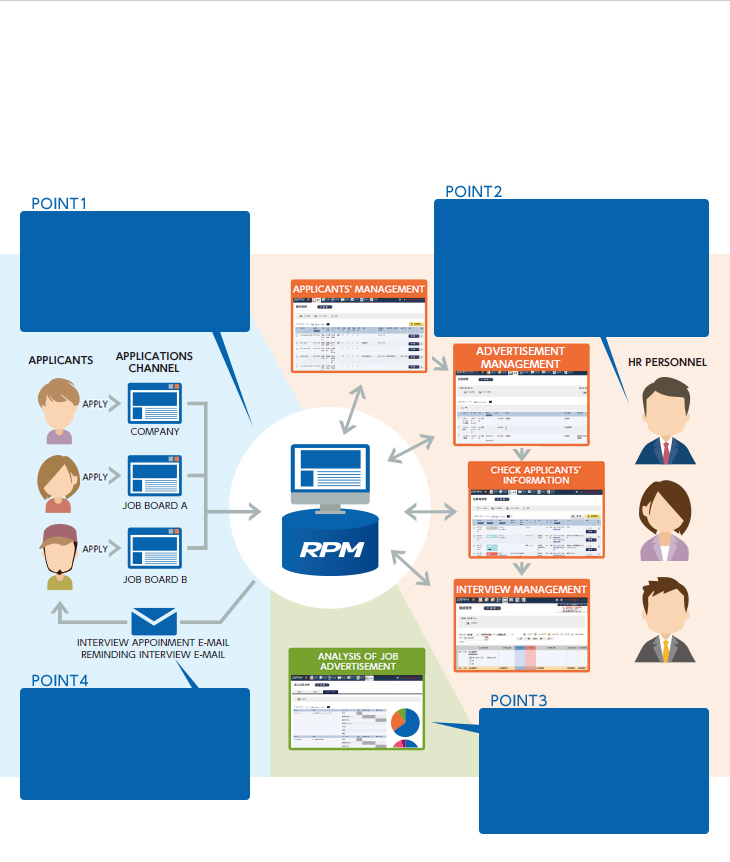 THE USAGE OF RPM THROUGH IMAGES


AND


POINTS

Capture automatically applicants from medium via various job boards, and manage all applicants' data in one database.

Deliver mails and SMS to an applicant. It is not necessary to purchase other delivery services separately.

RPM will check applicants' CVs and delete CVs that are unappropriated for the job position. HR personnel only needs to check the list appropriate candidates and make interview schedule. The recruitment progress become faster and more reliable.

Analyze the exact cost-benefit and efficiency of job ads during recruiting progress. Thanks to this, the company can save money for recruitment.

FEATURES

OF RPM
Applicants' management
Applicant file uploading is now unnecessary because RPM centrally manages and takes fully applicant's information from job boards automatically.
Duplicate check of applicants
Applicant file uploading is now unnecessary because RPM centrally manages and takes fully applicant's information from job boards.
Contact with applicants anytime
Inform applicants the interview's information any time despite holidays, night time or vacation.
Interview management
RPM can manage interview meeting places, date and time through Web application, telephone application all. Besides, it has another useful feature which is linking applicants' data all at once.
The exchange by the web e-mail
All exchanges by emails with the applicants are possible from the system.
Analysis of job advertisement
RPM will automatically create analysis reports about efficiency of the job advertising till recruit employees.
Free customization
By 45 original parameter setting, users can custom the items within the system.
Recruiting homepage
Adoption website of RPM offers from job search to entry function. RPM also has job advertising and application management at the same time.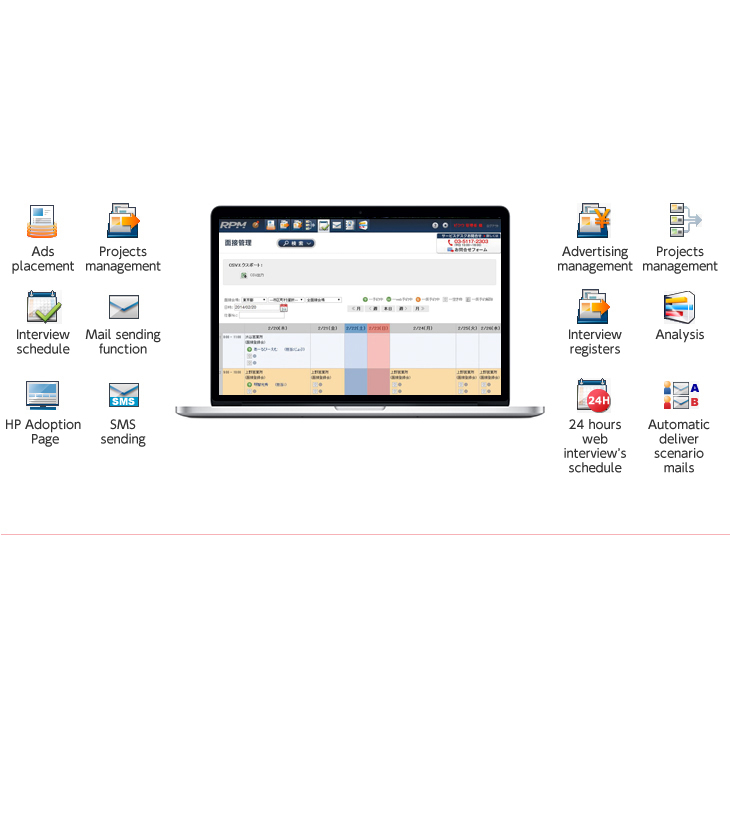 USING A VARIETY OF
APPLICATIONS
From advertising to analysis of job advertisements, a large number of available functions are available to conduct the recruiting progress efficiently and speedy.
TRY A FREE TRAIL FOR 30 DAYS
TO FEEL THE CONVENIENCE
[Try it now!] [30 days without any limited function!] [No set up fees!]
Free trial for 30 days without any limited functionality with all the features. Try the convenience which is brought by a collective of applicants' information at only one place. No need to concern about the settings. Our company will do the setup for you so please do not hesitate to contact us.